HONORED GUEST EXPERIENCE GUIDE
Thank you for joining us at the 2018 Special Olympics USA Games as an Honored Guest! Here is what you can expect during the week.
HONORED GUEST PACKET PICK-UP
If you have not already received your Honored Guest credential, a packet will be available for pick-up in Seattle at the following times. Even if you have your credential in-hand, please stop by at your convenience with any questions and to claim your gift bag!
SHERATON SEATTLE HOTEL
1400 6th Ave, Seattle, WA 98101
Fri 6/29 | 1:00pm–7:00pm
Sat 6/30 | 7:00am–7:00pm
Closed at the Sheraton on the morning of Sunday 7/1; available only at Husky Stadium
Sunday, 7/1 | 4:00pm–7:00pm
Mon 7/2 through Friday 7/6 | 7:00am–7:00pm
HUSKY STADIUM
"Honored Guest Will-Call" tent outside South Elevator entrance
Sun 7/1 | 9:30am–12:30pm only
HONORED GUEST BENEFITS
Along with a credential, Honored Guests will each receive one ticket to Special Olympics Founder's Reception and Opening Ceremony at Husky Stadium (Sunday, July 1 at 11am). This ticket with bar code is required for entry to Husky Stadium—a credential will not allow access. Reception details below.
Honored Guests are able to claim one complimentary ticket to the Future of Inclusion Forum at Seattle Repertory Theatre (Monday, July 2 at 7pm). This ticket is required for entry to the Seattle Repertory Theatre—a credential will not allow access to the venue. Forum and pre-forum reception details below, as well as instructions for claiming the complimentary ticket.
Please wear your Honored Guest credential at all times for access to the following:
Honored Guest Reception prior to the Future of Inclusion Forum; present ticket for admission to the venue, and your Honored Guest credential for access to the reception in the Seattle Repertory Theatre Rotunda (details below)
Honored Guest Reception at Closing Ceremony; present your Honored Guest credential to join the reception on the Boeing Terrace at MOHAI in Lake Union Park (details below)
Honored Guest and Family Lounges at competition venues (details below)
Honored Guest Shuttle (details below)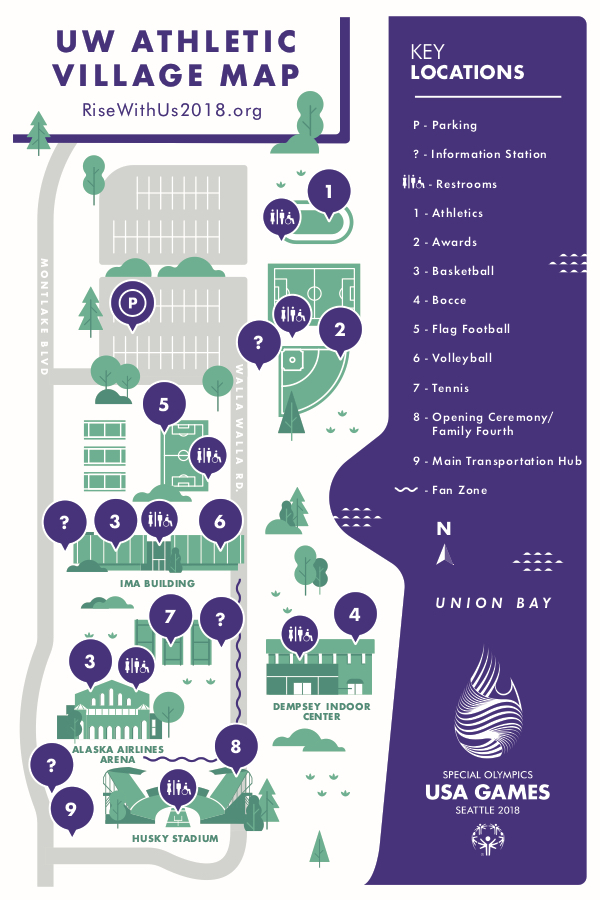 HOST HOTEL
Sheraton Seattle Hotel
1400 6th Ave, Seattle, WA 98101
Honored Guest Lounge with complimentary beverages, courtesy of Starbucks and Coca-Cola. Meet clients, family and friends to plan your day at the Games!
Honored Guest Shuttle between Sheraton Seattle and University of Washington
Assistance with transportation to receptions and competition venues
Games Information Station and competition schedules for the day
USA Games Merchandise available for purchase, Friday 6/29 & Saturday 6/30
TRANSPORTATION
The Games encourage public transportation whenever possible. Watch the video for a rundown of the public options to get you around the Puget Sound region!
Games Information Stations, located in SeaTac Airport baggage claim between carousels 7 & 8 and carousels 13 & 14, are staffed with volunteers to assist with transportation questions.
The Link Light Rail on Sound Transit departs from Sea-Tac Airport every 6 to 15 minutes and takes about 40 minutes to travel between Sea-Tac Airport and Westlake Station in downtown Seattle. Schedules and station maps are available on the Sound Transit website.
All USA Games attendees can use discount code USAGAMES for 15% off two Lyft rides to any of the USA Games events. Complimentary Lyft rides are available on a limited, as-needed basis for Honored Guests only. Lyft Ambassadors are stationed at the Games Information Stations at SeaTac (see locations above) to assist.
An Honored Guest Shuttle will be available on a daily basis between the Sheraton Seattle and the University of Washington where you can catch the Games transportation to the competition venues. Athletes have priority. You must have your Honored Guest credentials in order to ride the shuttle.
Driving | If you are driving to competition venues, directions and addresses are available here (FORTHCOMING)
Parking | Varies depending on location
Husky Stadium, Sunday 7/1 | Lot E1 & E18: $10.00 per car
Husky Stadium, Monday 7/2 – Friday 7/6 | Lot E1 & E18: $6.00 per car
Seattle University – Paid street parking and garage parking
Seattle Pacific University – Paid street parking
Angle Lake, Celebration Park, King County Aquatic Center, Kenmore Lanes, Willows Run Golf Club – Free parking lots
Sheraton Seattle Overnight Parking | Valet only, $57.00/day
HONORED GUEST AND FAMILY LOUNGES
Lounge areas available at various competition venue sites with four lounges at UW.
Open to Honored Guests and registered athlete families
Complimentary Coca-Cola beverages available (no snacks)
Staffed by volunteers to assist with questions
Some lounges are indoor with soft furniture and some are tents outside.
RECEPTIONS
Special Olympics Founder's Reception
Sunday, July 1, 11:00am–12:30pm (followed by Opening Ceremony, 12:30pm–2:45pm)
Club Husky, Husky Stadium
3800 Montlake Blvd NE, Seattle, WA 98195
You MUST have a Founder's Ticket with a bar code for entry
Doors open at 11:00am
Enter through the South Elevator Entrance of Husky Stadium
Clear Bag Policy for Husky Stadium; only clear plastic bags that do not exceed 12" x 6" x 12"; one-gallon clear, resealable plastic storage bags; small clutch bags no larger than 4.5" x 6.5" (approx. size of a hand). No purses, backpacks, diaper bags, binocular cases, camera cases, fanny packs, luggage, seat cushions with a zipper, or any bag that is not clear.
Bag Check available outside stadium for $10.00 per bag
Light brunch served; no-host bar
Includes seating for Opening Ceremony, 12:30pm–2:45pm
Light Rail will be your quickest, easiest mode of transportation to Opening Ceremony. Honored Guest Shuttles run continuously between the Sheraton and UW.
Expect delays if driving and plan accordingly
*If you purchased a VIP Luxury Suite, you must have a separate Suite Ticket with a bar code for entry. Use South Elevator Entrance and proceed to 5th floor. Suites still available for purchase.
Parade of Athletes
If you are participating in the Parade of Athletes, please check in at the Parade of Athletes table located immediately upon arrival at the Founder's Reception.
Future of Inclusion Reception
Monday, July 2, 6:00pm–6:45pm (followed by Future of Inclusion Forum, 7:00pm–8:30pm)
Seattle Repertory Theatre, Seattle Center
155 Mercer St, Seattle, WA 98109
You MUST have a mobile ticket for entry to the venue. Claim your complimentary ticket here, Future of Inclusion Forum (Honored Guests receive 1 complimentary ticket)
Doors open at 6:00pm.
Honored Guest Reception in Seattle Repertory Rotunda. Show your Honored Guest Credential for entry to the reception. Complimentary beer, wine and Coca-Cola products served.
Seattle Monorail is a fun transportation option from downtown Seattle to the Seattle Center grounds then a short walk to Seattle Repertory Theatre. Look for Games Volunteers to direct you. Monorail runs until 9:00pm.
Parking garages and lots within walking distance of Seattle Repertory Theatre.
Honored Guest Reception, Closing Ceremony
Friday, July 6, 7:00–9:00pm
Boeing Centennial Terrace, Museum of History and Industry (Lake Union Park)
860 Terry Ave N, Seattle, WA 98109
No ticket required for admission to Lake Union Park for Closing Ceremony
Show your Honored Guest Credential for entry to the reception on the Boeing Terrace at MOHAI
Passed hors d'oeuvres, beer, wine and Coca-Cola products served
Parking is extremely limited. Best public transportation is the Seattle Streetcar from downtown Seattle: Pacific Place Station to South Lake Union & Terry Ave, or the Mercer Street Garage for a short walk to Lake Union Park
Enjoy the festivities of Closing Ceremony in Lake Union Park
AWARDS CEREMONY OPPORTUNITIES
If you are interested in awarding medals to the athletes, please complete a request form here.
OTHER INFORMATION
A mobile Games app with maps, venue information, schedules; overviews and Schedules & Results lookup, volunteer information and links to our social media is available on the Apple App store and Google Play Store. Search "Special Olympics USA Games."
Please check website for the latest information
Please carry a photo ID with you at all times; certain venues will ask for your ID
Emergency phone #206-899-1425 (located on the back of our credential)